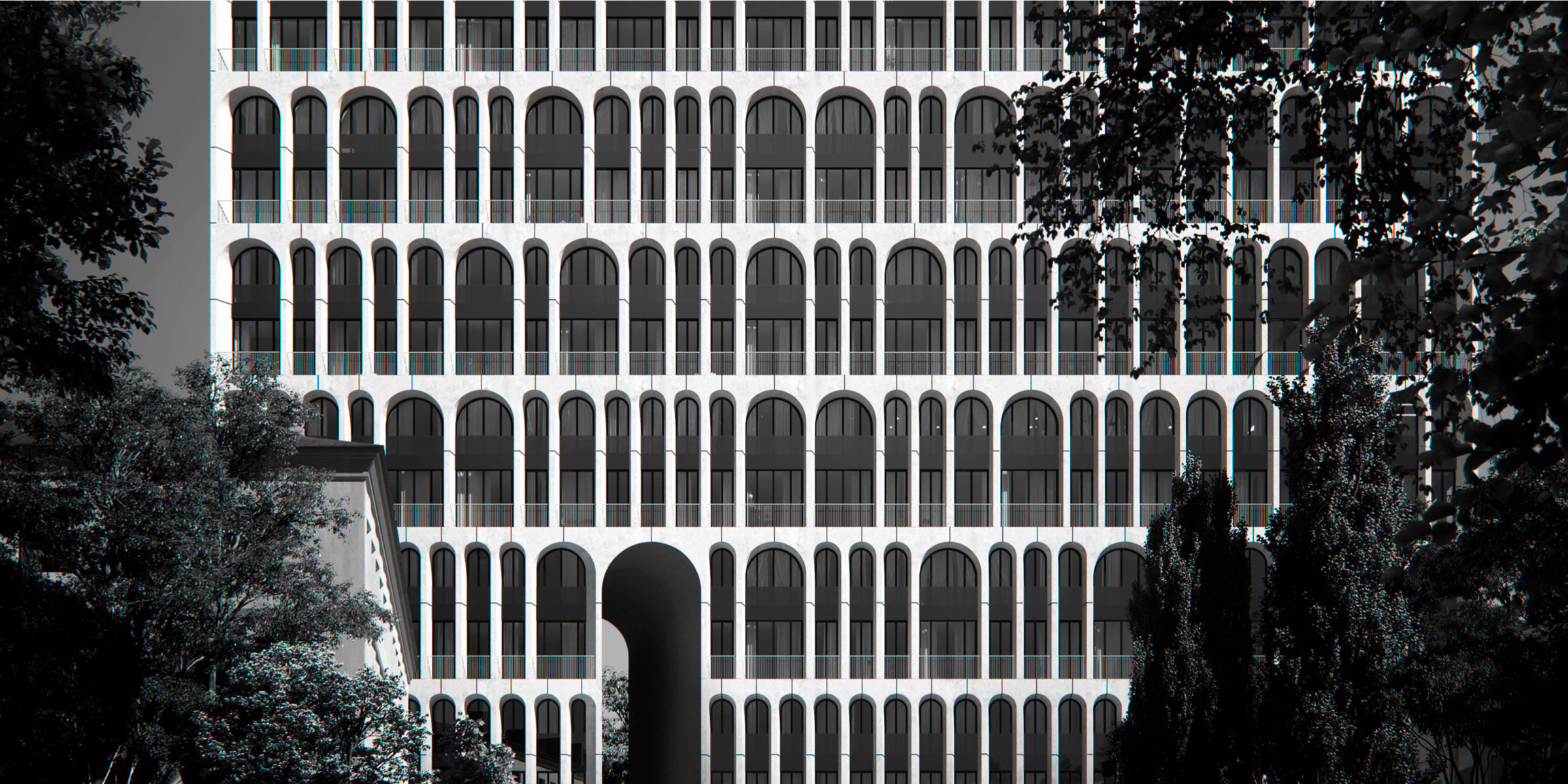 16-18 1st Truzhenikov lane
The BRODSKY development is a new residential complex on the Embankment  with its own landscape park – presenting a truly tangible embodiment of architectural poetry.
THE FIRST THINGS THAT WILL CATCH YOUR ATTENTION ARE THE SNOW-WHITE LACE ARCHES THAT DECORATE THE FACADE.
Brodsky House is located in the Khamovniki district, which is one of the most peaceful, green areas in the centre of Moscow. The picturesque embankments of the Moskva River, the parks and public gardens, the Novodevichy Convent, the fine-dining restaurants and the best city schools all contribute to creating its harmonious, family environment. 
An impressive panoramic view opens from the windows of every apartment: The Moskva River, Stalin's high-rises , Sparrow Hills and the Moscow City skyscrapers.
The building facade presents a combination of snow-white arches. The largest arches frame the living room windows that overlook the Embankment, while the bedroom windows face the quiet inner courtyard.
Brodsky House is surrounded by its own landscape park with a children's playground and a picturesque pathway leading through an arch to the embankment of the Moskva River.
The concept of the lobby interior echoes the architectural elements of the facade. The space is decorated with natural marble in shades of grey, while the floor, itself, is hand-made from three different types of marble.
All the apartments are decorated and have well-equipped kitchens and bathrooms. The project aesthetics are manifested in every detail: the Ebony and Co (London) oak flooring complements the smoky pattern of the white-grey marble that creates the effect of watercolour-painted clouds. Your comfort and quality of life are maintained by Smart Home technology and the TION system that purifies the air, removing even the smallest particles, to meet full medical standards.
THE HIGH CEILINGS AND PANORAMIC WINDOWS CREATE LIGHT-FILLED SPACES.
The location of the building inspires an active lifestyle. Broad embankments, the Novodevichy Park and the Luzhniki Stadium are perfect both for family walks and for encouraging personal sporting achievements.
For the apartment owners, there is a wellness centre with massage rooms and gyms for individual workouts.
A children's club offers opportunities for them to spend time with their peers and neighbours.
Tsimailo Lyashenko & Partners
The Tsimailo Lyashenko & Partners Architectural Bureau was founded in 2001 and is one of the top ten such ...
The Aurora Group is an engineering company specialising in the design and integrated management of ...