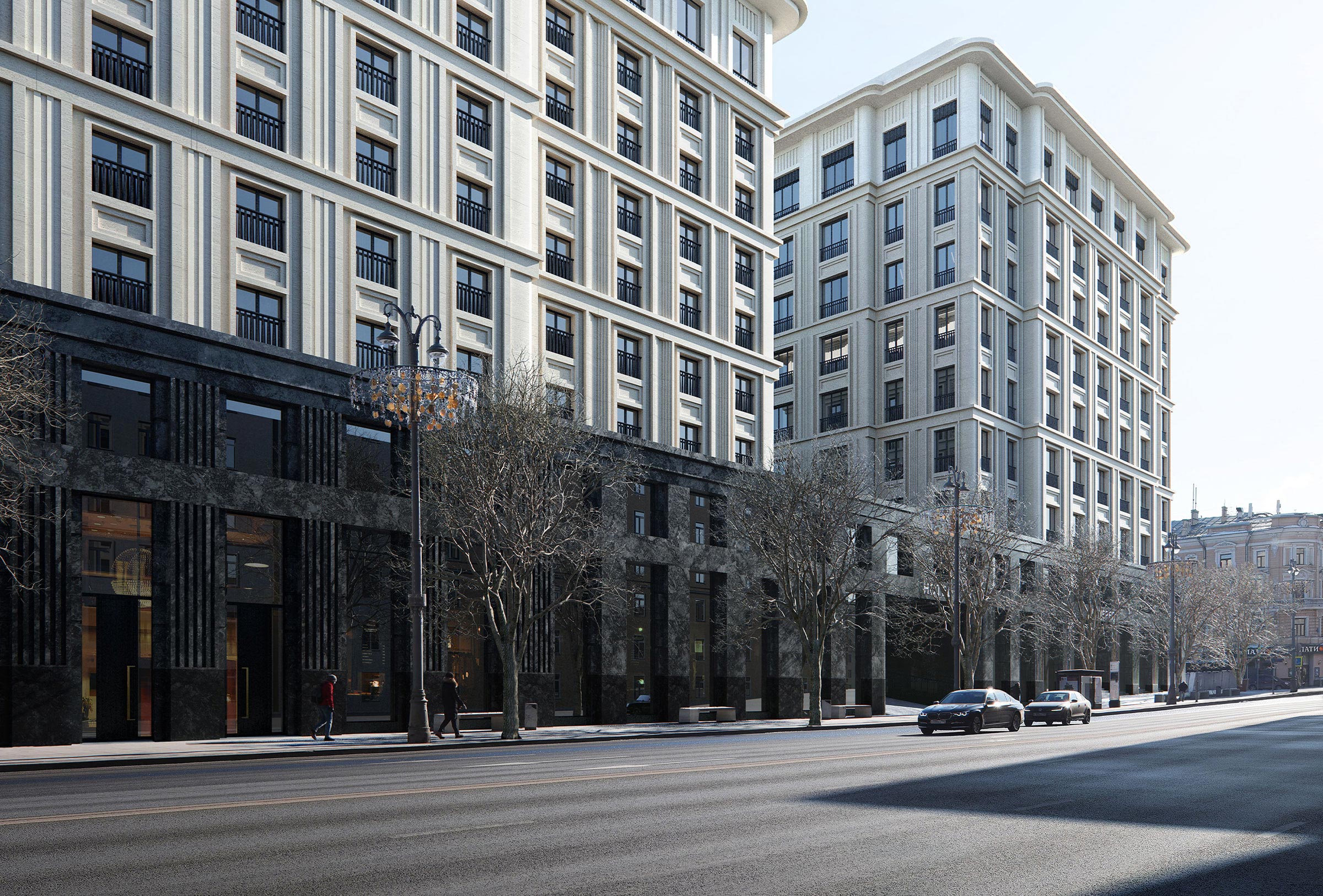 2 1st Tverskaya-Yamskaya st.
VESPER PRESENT A NEW PROJECT. THIS EXCLUSIVE PROJECT IN THE MAIN STREET OF MOSCOW IS A GAME-CHANGER FOR LIFE AESTHETICS IN A MODERN MEGAPOLIS.
Two buildings with serviced apartments, create a single ensemble. They are connected by shared floors where there are restaurant, a wellness with a pool, a shopping gallery and a parking lot. In addition, each of the buildings has a separate entrance.
The Vesper Tverskaya project completes the architectural ensemble of Tverskaya Street, occupying the last free area of the city's main street - in the very heart of the cultural, business, fine-dining and night life area of Moscow. Residence in the very city centre creates a special pace of life. Everything that one of the largest megapolises in the world can captivate you with is within easy walking distance: philharmonic halls, theatres, the main museums, top class restaurants, boutiques and the Patriarch Ponds - one of the most fashionable and conceptualised areas of the city.
The architectural concept of the project, created by the SPEECH architectural bureau under the leadership of Sergey Choban, fits in organically with the elegant range of historic buildings.
The combination of bold lines with smooth contours and precise proportions echoes the monumental character and scale of Tverskaya Street.
The spacious lobby is decorated in noble, warm colours. The combination of dark and light marble flooring follows the geometry of the frosted glass and gold metal elements, separating the lobby and lounge area. The strict forms and the powerful rhythm of vertical lines in the decor are balanced with furniture that emphasizes its own soft, rounded silhouettes.
Apartments are offered with high quality finishes using marble and precious woods, natural stone and textiles, including fitted kitchens and bathrooms.

The apartments are made with furniture, lighting and premium customdesigned accessories. The residences are completely ready for living.


Penthouse 1067.4 sq.m with panoramic views are located at the top floor of the building A. The benefits of living in penthouse are undeniable:round-the-clock access to the facilities, as well as private access to separate entrances and a personal elevator.
Penthouse is let undecorated and open planning. Space allows to realize the design project in according to your preferences.
Penthouse offer panoramic views of Triumfalnaya Square and the city's dynamic main street. Inspired by local historical insights and transformation of Tverskaya Street Vesper Tverskaya project embodied the grandiosity of Moscow's iconic spaces, as well as its intimate details.
A restaurant, a wellness-club with a pool and spacious lounge zones are available for apartment owners.
WELLNESS
The fitness centre is at the disposal of the apartment owners. The newest sports equipment provides maximum benefits from workouts. Innovative treadmills offer stunning views of Moscow.
SWIMMING POOL
The pool is filled with crystal clear water.
RESTAURANT
The fine-dining restaurant offers a wide selection of original dishes that are perfectly complemented by exclusive wines, carefully selected by sommeliers.
A PRIVILEGE THAT HAS BECOME A WORLD TREND IS NOW AVAILABLE IN MOSCOW.  
CONCIERGE SERVICE 24/7
We appreciate your time. The concierge is your ideal assistant who is ready to book a table at a restaurant at any time, find tickets for a theatre premiere or a match of your favorite team at the last moment, help with travel arrangements or call a taxi and courier.
DOORMAN
The apartment owners can use the doorman service to welcome guests at the building entrance.
RENTAL APARTMENT MANAGEMENT
The owners of the apartments have an opportunity to put their apartment under the management of Moss Hospitality and receive rental income. The management company will take care of searching of tenants and management of the apartments.<br>
DELIVERY OF DISHES FROM THE RESTAURANT
For those who want to try high gastronomy without leaving home, such a service is available for the apartments. Dishes selected from the restaurant's menu will be prepared exactly at the arranged time and served at your home.
DELIVERY OF FRESH FLOWERS,PRODUCTS AND GIFTS
To fill your home with the scent of freshly cut flowers, products or choose a gift for an important person is very important, but time-consuming. Tell the concierge just once about your preferences and you can be sure that these daily worries need concern you no longer.
PET CARING SERVICE
Need to stay late for an important meeting or want to go on a trip? Be sure that your pet will not be left unattended. Moss Hospitality pet walking service will take care of everything: the pet will go for a walk on time, and the owner will receive a report with the route, photos and a story about the walk.
NANNY AND TUTOR SERVICE
The flawless service is available for all family members, including even the youngest ones. Experienced and professional nannies and tutors will look after your children and arrange their time in the most rewarding and beneficial way, enabling their parents not to be distracted from their important business.
TAILORING SERVICES AND DRY CLEANING
To always look perfect, you do not need to spend a lot of time taking care of your wardrobe. Use the services, including tailors, laundry, dry cleaning, ironing and shoe care. Your items will be carefully kept in excellent condition and delivered to your apartment.
MAID SERVICES
To maintain perfect cleanliness and excellent order in the apartments, you can use the services of maids. In particular, you can order furniture and carpet cleaning or ask them to prepare the apartments for your return from a business trip or vacation.
TECHNICAL SUPPORT OF APARTMENTS
Additional services include maintenance of the apartments by the technical staff. They will help you troubleshoot any issue with your apartment, and during your absence, employees will regularly check the operation of all its systems.
CONCIERGE SERVICE 24/7
DOORMAN
RENTAL APARTMENT MANAGEMENT
DELIVERY OF DISHES FROM THE RESTAURANT
DELIVERY OF FRESH FLOWERS,PRODUCTS AND GIFTS
PET CARING SERVICE
NANNY AND TUTOR SERVICE
TAILORING SERVICES AND DRY CLEANING
MAID SERVICES
TECHNICAL SUPPORT OF APARTMENTS
SOME SERVICES AVAILABLE AT ADDITIONAL COST*
This architectural bureau, founded in 2006 by architects Sergey Choban and Sergey Kuznetsov, is a leading such ...
Управлением апартаментов Vesper Tverskaya будет заниматься команда MOSS Hospitality, создавшая первый и ...